(Japanese)

Modeling Arsenal
The Pages of my Plastic Models

Back to the TOP Page(J)
---
---
These contents has checked by IE4.01. browser and 800x600 graphic size.
This page has many images.
In order to see my pictures most appropriately, adjust your CRT
so you can see the difference of the dark part in the following gray scale.

---
TOPICS 2003/08/03

New figure disclosing

My first garage kit
1/12scale, Work code is "CF29-05"
"Lum / Electric Jungle"
5 works(Mark 1 to 5) disclosed all.

TOPICS 2002/05/25 I participated the Shizuoka Hobby Shaw that held 18-19 May in
Twin-Messe Shizuoka as a member of @Nifty Modeling Forum.
I displayed 2 figures including 1/12 scale new work.
I had joyfull 2 days.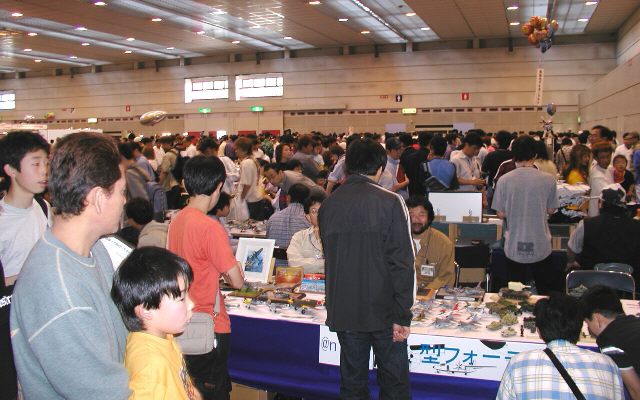 TOPICS 2001/11/17
Under making new figure
1/10scale, Work code is "RF-AC01"
false title " Japanese Woman"
Although I had a schedule of exhibition as a finished work to
2001 @NIFTY modeling forum exhibition,
it was displayed as a incomplete work,
by the change of schedule hurriedly.
So, now it is under making.
---
Refering my modeling dialy recorded since 1981 summer, I'll disclose the middle of the scale models and character models that produced in the past and making works gradually.
I was crazy for computers mid 10 years, I came backed to modeling world in 1996. But I'm sad that I have few time for modeling, because busy for making Pages and making new tools etc...
---
---
Return to TOP Page(J)
Mail To 'GOME': mailto:HGC00477@nifty.ne.jp___________
Mail from the following time zone doesn't arrive me by my Spam Mail Block.
-0800,-0700,-0600,-0500,-0400,-0300,+0000,+0100,+0200,+0300,+0400,+0500,+0800
Please use my bbs for contact. http://gome.bbs.coocan.jp/